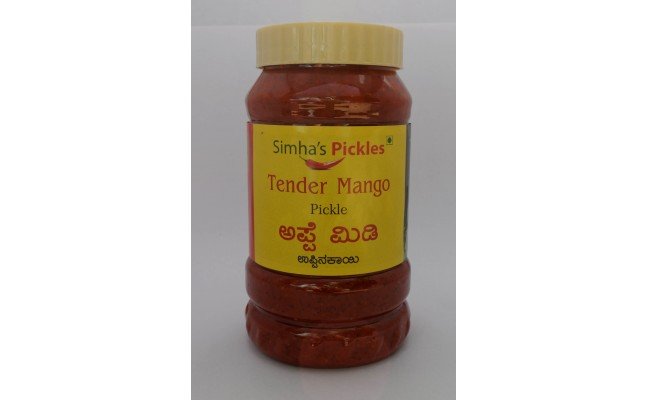 Net weight: 500g
Appe Tender Mango Pickle - Spicy and Aromatic
Being perhaps the most popular pickle of South India, this spicy pickle is guaranteed to gratitfy your tongue. If you are not specifically into spicy food, you will surely be stunned by the unmatched aroma of these astonishing little tender mangoes.
Pleasurable ways to consume:
Curd rice - Having this tender mango pickle as a side dish with curd rice is a wonderful way to increase appetite.
Rice with Ghee & Salt - Attain an utmost satisfaction in your meals by mixing gravy with hot rice and using the tender mango as a crispy addition.
Instant supplement with Dosa and Chapathi - Truly instant supplement for your breakfast, especially if you are in a hurry and don't have enough time to prepare Chutney.
Why Simha's Pickle?
Made of finest tender mangoes - All little mangoes you get will be hand-picked in several rounds at several stages of pickling just to ensure you will have the best delighting experience with tender mango pickle ever.
Top-class ingredients - Only the highest quality ingredients are used - such as authentic Byadagi chillies, finest mustard etc. - resulting in the astounding masala you ever come across.
100% Natural - No tasting powder. No flavouring agents. No colouring agents.
Note: Please don't let moisture get in contact with this. Use completely dried spoons.
The video is 5 min 48 sec long. Kindly use button on the video player to navigate through different sections.
More details