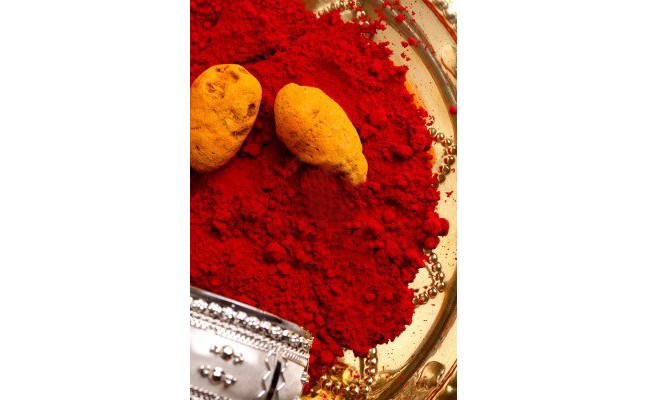 Sringeri Kumkuma - Authenticity. Divinity. Together.
Make your rituals complete with the authentic Kumkuma, made out of hand-pounded turmeric powder. Say goodbye to the synthetic - and potentially carcinogenic - colours that are widely sold in the markets in the name of Kumkuma. Use our original Sringeri Kumkuma with total peace of mind.
Note: If you are looking for Dark-red Kumkuma,
The original Sringeri Kumkuma is made of pure, hand-pounded turmeric powder, lime, lemon, ghee and more genuine ingredients that altogether turn into Satva - The Essence.
Available in 2 colours:
Click here for Maroon (darker one)
and this is
Red (brighter one)
. Both are original.
Pure and Divine - Use original Kumkuma prepared in the way defined in the Shastras.
Healthy - It won't leave a burnt-scar on your forehead. Totally free from cancerous colour powders.
You put, it sticks; you wipe, it falls - With the perfect sticking consistency, it's easy to put and and take it off. It will only be on your skin as long as you want.
More details